CONSOLE REVIEWS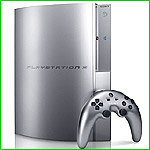 Playstation 3 Review

At the Electronic Entertainment Expo (E3) in Los Angeles California, new tidbits of information on PlayStation 3, as well as prototypes, were showcased by Sony Computer Entertainment Inc.

Launching in Spring 2006, PlayStation 3 will engage in a console war against Microsoft's Xbox 360, and is powered by the Cell processor which is jointly developed by IBM, Toshiba, and Sony.

Similar to the processor found in Microsoft's Xbox 360 and Apple's G5 line of computers, Playstation 3 features a powerful 3.2 Ghz PowerPC core. Sony is claiming to have created the most powerful graphics system ever built on any platform. Nvidia's custom GPU handles the console's graphics (RSX Reality Synthesizer). The nearly photo-realistic graphics at high-definition are truly impressive as Sony claims that the RSX is able to support a resolution of 2000x1000 - or 2 million total pixels. As with the Xbox 360, the PS3 supports multiple wireless controllers, though it can handle up to seven simultaneous players via Bluetooth where Microsoft's console supports only four.

There is no clear indication of how much the PS3 will cost but we reckon it might be around $300-400. You might also have to upgrade to an HDTV in order to enjoy the full capabilities of the PS3 platform. As fancier graphics may necessitate longer development time and cost, you may also want to look out also for more expensive than usual prices for PS3 games.


Playstation 3 System Performance Specifications
CPU
Cell Processor
PowerPC-base Core @3.2GHz
1 VMX vector unit per core
512KB L2 cache
7 x SPE @3.2GHz
7 x 128b 128 SIMD GPRs
7 x 256KB SRAM for SPE
* 1 of 8 SPEs reserved for redundancy
total floating point performance : 218
GFLOPS
GPU
RSX @550MHz
1.8 TFLOPS floating point performance
Full HD (up to 1080p) x 2 channels
Multi-way programmable parallel floating
point shader pipelines
Sound
Dolby 5.1ch, DTS, LPCM, etc. (Cell-base processing)
Memory
256MB XDR Main RAM @3.2GHz
256MB GDDR3 VRAM @700MHz
System Bandwidth
Main RAM 25.6GB/s
VRAM 22.4GB/s
RSX 20GB/s (write) + 15GB/s (read)
SB 2.5GB/s (write) + 2.5GB/s (read)
System Floating Point Performance
2 TFLOPS
Storage
HDD
Detachable 2.5" HDD slot x 1
I/O
USB
Front x 4, Rear x 2 (USB2.0)
Memory Stick
standard/Duo, PRO x 1
SD
standard/mini x 1
CompactFlash
(Type I, II) x 1
Communication
Ethernet
(10BASE-T, 100BASE-TX, 1000BASE-T) x 3
(input x 1 + output x 2)
Wi-Fi
IEEE 802.11 b/g
Bluetooth
Bluetooth 2.0 (EDR)
Controller
Bluetooth (up to 7)
USB2.0 (wired)
Wi-Fi (PSP®)
Network (over IP)
AV Output
Screen size
480i, 480p, 720p, 1080i, 1080p
HDMI
HDMI out x 2
Analog
AV MULTI OUT x 1
Digital audio
DIGITAL OUT (OPTICAL) x 1
Disc media
* read only
CD
PlayStation®
CD-ROM
PlayStation®2
CD-ROM
CD-DA
CD-DA (ROM), CD-R, CD-RW
SACD
SACD Hybrid (CD layer), SACD HD
DualDisc
DualDisc (audio side), DualDisc (DVD side)
DVD
PlayStation®2
DVD-ROM
PLAYSTATION®3
DVD-ROM
DVD-Video
DVD-ROM, DVD-R, DVD-RW, DVD+R, DVD+RW
Blu-ray Disc
PLAYSTATION®3
BD-ROM
BD-Video
BD-ROM, BD-R, BD-RE

Video Gaming Articles:

More Resources: